On Tuesday, December 27, was the launch of The World Horse Library at the stand of Normandy, in the presence of various personalities of the Region starting with Mme Eudier, Vice President in charge of Agriculture of the office of Governor Hervé Morin. Equally This presentation was followed with attention by Mrs. Cherrier, Regional Councilor in charge of the equine subsidiary and Mrs. Meunier, President of Hippolia.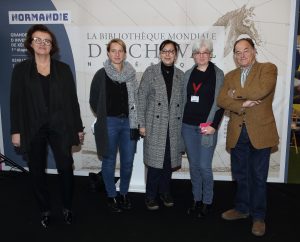 The unexpected visit of an eminent horseman received by the protagonists of the project, made the launch even more successful: Alexis Gruss, owner of the circus of the same name, who had set up his tent in the Porte de Passy every year during the winter. An "old-fashioned" circus or from tradition, in which the horse is the cornerstone, which began in the late 18th century in England with Philip Astley (1742-1894), followed by Antonio Franconi, another great name of the circus and that refers to the French masters of the nineteenth century, starting with François Baucher and ending with Ernest Molier.
Alexis Gruss is an expert in his art and his latest show entitled "Origins, by Philip Astley à nos jours…", like many previous ones, has the ambition to educate its public at the same a fun time: cartwheels, horseback riding and acrobatics, balancing, high school, free, gang for four, juggling, comedy, aerial ballets and equestrian pirouettes capable of taking your breath away.
A quarter of an hour of joy shared with Alexis Gruss, whose generosity is only comparable to his culture, we talked about horses, the circus and books, it was the best opening gift of The World Horse Library.
XL
More information: