Edward Lowell Anderson (1842-1916) was born in Ohio, studied law and owed his equestrian training to a former French cavalry officer, Joseph Merklen. Because of his knowledge, he was able to produce many highly valued publications that can still be called modern.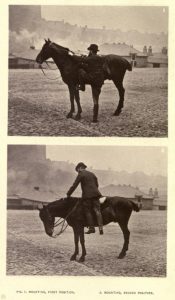 His judgment on the methods practiced by his fellow citizens was unquestionable: "If we take into account the rough and brutal methods that are often used to train and educate our horses, it should not surprise us that every year thousands of these animals become a danger to those who they ride or drive them. There is no doubt that many overfed and under-labored horses become difficult to handle in the hands of hesitant or timid owners; but surely a strong and determined rider can easily discipline these types of animals ", he stated in his work Vice in Horse (Edinburgh: Douglas, 1886).
If a picture is worth a thousand words, a photo is worth ten times more. In 1881, the first version of his texts did not include illustrations. Influenced by Muybridge's chrono-photographic experiments, he soon realized the pedagogical value of illustrating his words with photos detailing "step by step" the correct gesture to reproduce. The cover of his Modern Horsemanship (New York, Edinburgh, David, 1889) praises a modern learning method with "live" photographs. Nothing better to remember the steps of riding! He was also one of the first to break down baucher-style neck curls into photographs. This staging is still used in current training manuals.
Know more :
Books by Edward L. Anderson